Wearing Face Masks to Limit the Spread of COVID-19
Photo credit: Kim Azcona Castaneda
With confirmed cases of COVID-19 on the rise, the Centers for Disease Control and Prevention is recommending that people wear face coverings made of cloth or fabric when out in public spaces where 6 feet of physical distance is difficult to maintain, such as grocery stores and public transportation.
This voluntary measure is meant "to slow the spread of the virus and help people who may have the virus and do not know it from transmitting it to others," the agency states. Face coverings also should be worn when caring for someone who is sick or by a sick person sharing a room or vehicle with others.
The CDC says t-shirts and bandanas can be turned into face masks using common household items such as scissors, rubber bands, cloth strips, coffee filters, and hair ties, or that fabric can be sewn into makeshift masks. Cloth face coverings should:
Fit snugly but comfortably against the side of the face.
Be secured with ties or ear loops.
Include multiple layers of fabric.
Allow for breathing without restriction.
Be able to be laundered and machine dried without damage or change to shape.
People who should not wear a face covering include children under the age of 2, those who have trouble breathing, and those unable to remove the face mask without assistance.
The agency clarifies that it is not recommending surgical masks or N95 respirators be worn except by healthcare workers and first responders, as these are in limited supply.
Some associations have stepped in to address the shortage of face masks. Residents at Ford's Colony Homeowners Association in Williamsburg, Va., gathered fabric and needles and started to sew, making more than 400 face masks in just a few days to donate to local healthcare workers. The association's craft club, which includes 65 members, as well as individual residents also pitched in with additional face coverings.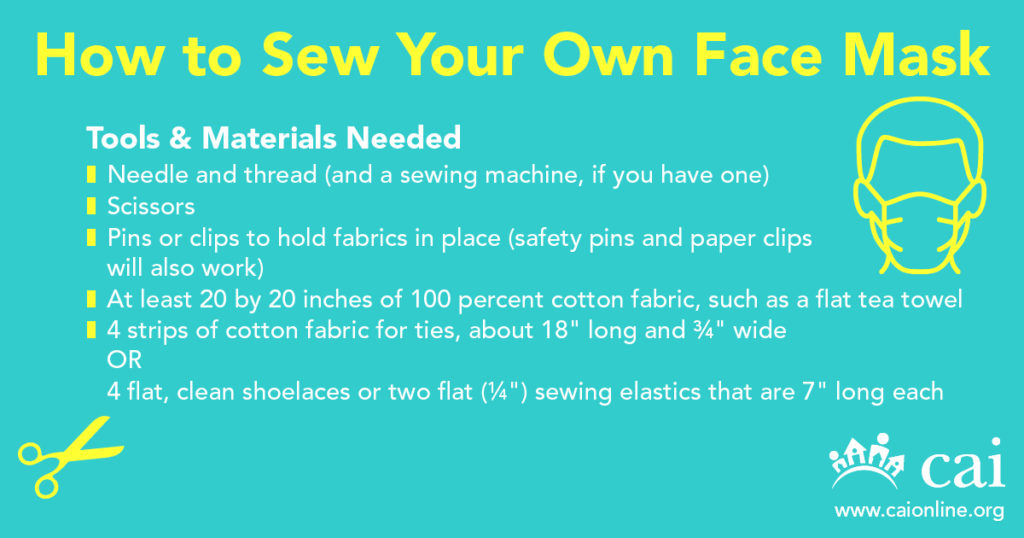 "My wife Cheri and I made over 100," says Drew Mulhare, CMCA, LSM, PCAM, general manager at Ford's Colony and president of Realtec Community Services.
Mulhare says the masks were donated to staff at Hospice House and Sentara Hospital, both in Williamsburg, and mailed by residents to relatives who are healthcare workers or first responders. "Medical professionals are using the masks as additional protection in front of their N95 respirators to prolong their usefulness. They also are using the masks in their office when not attending to a potential COVID-19 patient," Mulhare explains.
CAI has developed guidance, sample forms and documents, and FAQson the COVID-19 outbreak. Bookmark the page and return regularly for updates and additional resources.
Amy Repke, Vice President, Communications & Marketing. Amy brings more than 20 years of experience to CAI. Her communications career began in television news where she worked as a producer, writer, and assignment manager for local and network news channels. Amy has been nominated for four Washington Regional Emmy awards for writing and producing. Amy is a graduate of Old Dominion University and received a master's degree in Strategic Public Communications from American University.